Home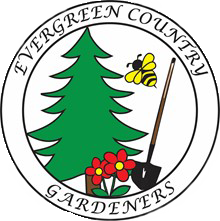 We are excited to be back together again for our 2023-2024 program year. We continue to monitor the Covid-19 situation and will follow any recommended protocols. At this time, masks are optional. Thank you.
Who We Are…
Evergreen Country Gardeners in Glastonbury, CT is a community of garden enthusiasts committed to sharing our love of flowers, gardening, and conservation. We conduct programs in support of our mission to promote interest in horticulture, floral design, civic plantings, and conservation, while enjoying the friendship, camaraderie, and support built through our meetings and community projects. With our diverse fund of knowledge, both the novice and experienced gardener can find something new to learn.
When We Meet…
Monthly from September through June. Meetings are usually the second Wednesday of the month at 6:30 p.m. There is time for socializing and refreshments followed by a program. Business meetings follow the program.
How To Join Us…
We would love to have you be a part of our group, whether you are new to gardening, or have been gardening your whole life. Join us at one of our educational and exciting programs that we have each month. Please contact us. We look forward to meeting you!
*****
Next Meeting
Wednesday, September 13th, 2023 @ 6:30 pm
Glastonbury Community Church – 113 Stancliff Road



Bounties from the Garden
*****
Other Upcoming Events
Glastonbury Council of Garden Clubs Program on October 2nd at 6:00 p.m.

Gardening Is Painless!
with
Neal Sanders

at the Congregational Church in South Glastonbury